Double Row Depositer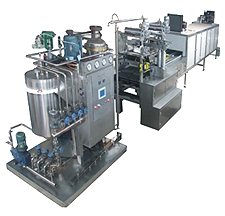 IMPL 300 Full Automatic Hard Candy Depositing Line (300KG/HR)

QH150/300/450/600 hard candy depositing line is a compact unit which can continuously produce various kinds of hard candies under a strict sanitary condition. It is also ideal equipment which can produce out good quality products with the saving of both the manpower and the space occupied.

* PLC /computer process control available; LED touch Screen. * Optional (mass) flowing controlled by Frequency inverters ;
* In-line injection, dosing and pre-mixing techniques for the proportional addition of liquid(milk); Dosing pumps for the automatic injection of colors, flavors and acids; * One set of extra chocolate paste injection system for making chocolate-central candies; "two/three-color striped depositing"," two /three–color double layers depositing", "central filling", "clear" hard candies and etc.
---
More Products Sample From This Production Line
| | | | | | | | |
| --- | --- | --- | --- | --- | --- | --- | --- |
| | | | | | | | |
| | 2 Colour Strip Hard Candy | Hard Candy with Chocolate Centre Fill | Marble Effect | 2 Colour Long-term Layered | 2 Colour Strip - Side by Side | Hard Candy with Fruit Centre Fill | Hard Candy |
---
Layout And Main Parameters
| | | |
| --- | --- | --- |
| | | Capacity(kg/hr) : 300 Candy weight : Customer provide Depositing speed : 55-65timesmin Steam Require : 300kg/hr 0.5-0.8Mpa Compressed air requirement : 0.2m³/min, 0.4-0.6Mpa Working condition : Temp:20-25℃ Humidity:55% Total Power : 28kw/380V Total Weight : 4000kg Factory needed : Manufacture Space: 20m×10m=200㎡ Raw Material Space: 10m×10m=100㎡ Finished Good Storage: 20m×10m=120㎡ (we will also design the layout as per customer's actual space) |
---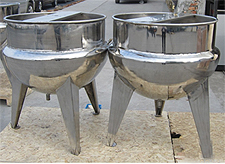 Picture And Parametes For Each Part Of The Production Line

1. 300l Sugar Dissolving Tank(Steam Heating)

Function: To melting the white sugar and mixing with glucose, other ingredients Material: All the surface and food contact surface are made of stainless steel 304. It is Jacket tank. (Double layer) Function: To dissolving the white sugar with glucose, water and other raw material All the joint points are made by bronze. Volume : 300L Dimension : 1120*1120*1080MM Working temp : 120℃ Working pressure : 0.15Mpa Power : 0.37kw Weight : 150kg
---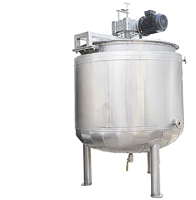 2. 300L Syrup Storage Tank

Function: Storage the syrup and keep the temperature. Material: stainless steel304;Jacket Tank. Joint pints: stainless steel. Valve included. Function: Conveying the dissolving syrup to the storage tank and keep the temperature at 100°C for preparation of the depositing. Volume : 300L Dimension : 800*800*1700mm Power : 0.55KW Weight : 120kg
---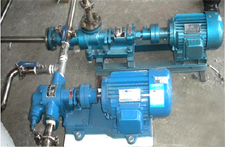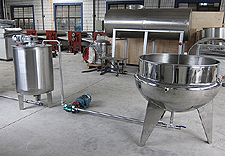 3. Syrup Transporting Pump

Function: Transporting the syrup from storage tank to the depositing line. Capacity : 3.3m³/h Pressure : 0.32Mpa Power : 01.5kw Weight : 40kg Tanks Connection: All connecting pipes (jacket pipe) to be supplied with the line Connecting Process: Sugar Dissolving Tank----Pump-----Storage Tank------Vacuum Cooker-----Depositing-----Cooling-----Packing * ALL PROCESS WILL WORK AUTOMATICALLY
---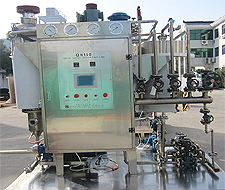 4. 300KG PLC Control Continuous Vacuum Micro-Film Cooker

Function: Vacuum cooking and micro-film cooking the syrup. Capacity : 300kg/hr Steam Consumption : 0150kg/hr Steam Pressure : 0.5-0.8Mpa Power : 13.2kw Dimension : 2400*2000*2400m Weight : 1200kg The Micro-film Cooker is composed of dosing pump, pre-heater, cooking chamber, vacuum pump, discharge, pump, pressure and temperature instrument and PLC control system. We adopt Siemens PLC full-auto programmed control system to control sugar temperature, depositing speed, depositing temperature etc., It is a vacuum cooking system. Using 3.5Inch LED touching scream, easier to operate. Using Siemens frequency inverter to control the quantity of depositing syrup. Continuous vacuum cooking can make the temperature reach more than 140℃. The whole machine is a frame structure. Landing board is made of Carbon steel. Continues cooking Tank is made of stainless steel 304.Inside surface is made of bronze. More Photos For Vacuum Cooker:
---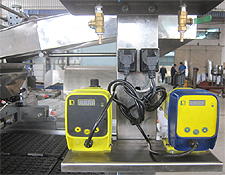 5. Color/Essence Mixer

Function: Mixing the syrup with different colors and flavor Includes: Two color/essence dosing pump / two color/essence mixer Pumping the color/essence into the mixier, and then mixing with the vacuum cooker sryup. This part has been fixed on the depositor machine.
---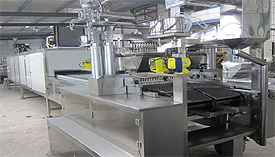 6. Automatic Depositing And Cooling Tunnel (Two Row)

Function: Depositing syrup on the moulds cooling remoulding Material: The material hopper and tubes: stainless steel 304. And the depositing heads are made of bronze. Whole frame structure is carbon steel. The conveying orbit, conveying chain and wheels are carbon steel (specially heating processed) More Detail Photos For The Depositing Line:
| | | | |
| --- | --- | --- | --- |
| | | | |
| | Double Row Moulds | Double Color Depositor | Automatic Double Row Depositor Cooling Tunnel (With Two Refrigerators) |
---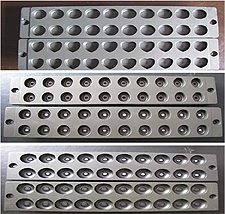 7. Hard Candy Moulds
Function:
Depositing syrup on different moulds to making variouse shapes
Material:
Aluminum, coating with none-sticky teflon.